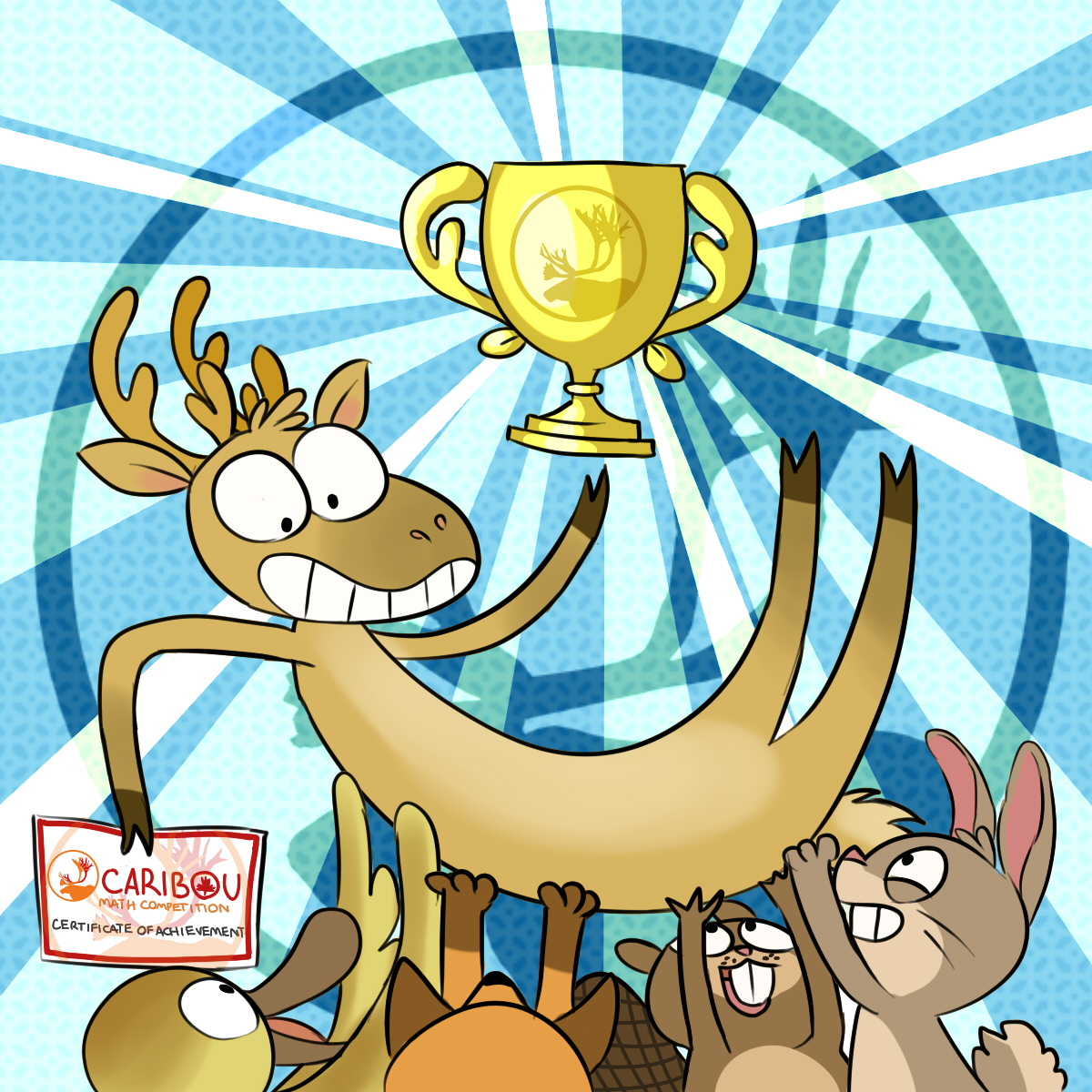 Congratulations on your results in the 2019-2020 Cup!
Students and Caribou Contacts can log in to view results and save/print certificates. If the name on the certificate is incorrect, Caribou Contacts can correct this in Display Access Codes.
Prizewinners' Contacts will be contacted by email once results are finalized.
Contest dates for the 2020-2021 Caribou Cup will be posted on this page and sent out by email, most likely in August/September.
Purchases are valid until June 30 : this means you can still access the Interactive Games and Previous Contests for practice, as well as any other resources purchased for your account.
Great work everyone! A big thanks to all our dedicated Caribou Contacts who organize the contests for their students. Have an excellent break and we will see you in October for the free first contest of the 2020-2021 Caribou Cup!
Stay Safe,
Your Caribou Team
The Caribou Mathematics Competition is a world wide online contest that is held six times throughout the school year. Each of these days, six contests are offered, one for each of the grade levels 2, 3/4, 5/6, 7/8, 9/10 and 11/12 and each one in English, French, Persian and Mandarin.
The Caribou Cup is the series of all Caribou Contests in one school year. Each student's ranking in the Caribou Cup is determined by their performance in their best 5 of 6 contests through the school year.
All support materials (written solutions, current year and previous years contests as online practise tests, online math and logic games, online mini courses) are also available without contest participation. Many of them are free.
Join participants from all over the world. Your contact person (teacher, librarian, home school organizer) can upload pictures to the gallery after signing in.
Take a look at all of our different posters!
The goals of this project are to:
Show that mathematical puzzles can be fun and that competing in math contests with interactive questions is exciting.
To improve student's problem solving techniques by providing a wide variety of challenging math activities suitable for all students.
Motivate students to get back to their school math when a question needed a technique or formula which they did not remember.
Upcoming Contests
Contests can be started between 7:30AM and 3:30PM local time of the participating school. Students are given 50 min to complete the test. For questions and concerns please visit our
Help page
.
| Date | Grades |
| --- | --- |
| 14th(Wed) & 15th(Thu) October, 2020 | 2, 3/4, 5/6, 7/8, 9/10, 11/12 |
| 11th(Wed) & 12th(Thu) November, 2020 | 2, 3/4, 5/6, 7/8, 9/10, 11/12 |
| 13th(Wed) & 14th(Thu) January, 2021 | 2, 3/4, 5/6, 7/8, 9/10, 11/12 |
| 10th(Wed) & 11th(Thu) February, 2021 | 2, 3/4, 5/6, 7/8, 9/10, 11/12 |
| 7th(Wed) & 8th(Thu) April, 2021 | 2, 3/4, 5/6, 7/8, 9/10, 11/12 |
| 5th(Wed) & 6th(Thu) May, 2021 | 2, 3/4, 5/6, 7/8, 9/10, 11/12 |
Details for participation and fees can be found here.
Cash prizes are given out to the top performing students and schools in the Caribou Cup. Additionally, contest and Caribou Cup certificates can be printed after each test is marked. More information regarding prizes and a sample certificate can be found here.
Calcrostics are a trademark in a Caribou Contest - one appears in nearly every contest.
Yesterday's Solution
78 

-

  2 

=

  76
 

-

 

+

  

+

 

-

   

×


76 

-

 74 

=

   2
 

=

 

=

  

=

 

=

   

=


 2 

×

 76 

=

 152